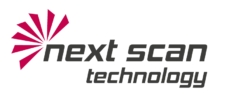 Next Scan Technology enables best of class material processing through polygon based scanner systems for both legacy and ultra-short pulse lasers. For ultra-precise micromachining of diverse materials ultra-short pulse (USP) lasers are the best choice, because cold ablation allows particularly fine, targeted material removal. To achieve industrial scale productivity, USP lasers can be combined with ultra-fast scanners like a polygon scanner system. Through the high speed, these systems can drastically reduce material processing times.
The key to Next Scan Technology is a compact all-in-one polygon scanner head, featuring its patented mirror optics providing small spot sizes fully telecentric over the entire scan area. In addition, these polygon scanner systems are optimized for highest scan speed stability and accuracy. Through the integration of high precision actuators and advanced control features such as SuperSync and TrueRaster additional flexibility in scanning strategies and highest accuracy becomes available.
Next Scan Technology offers a wide range of polygon scanner systems allowing customization for optimum efficiency.